BlockTales Current Layout
I've been lately putting my plans into motion for a new project. But I need some purebred peer opinion for it to finally come... into motion...
Are you happy with BlockTales Current Layout? And by that, I mean the Red/White Colour Scheme, with the Title, Episode Number and Date at the top, finished off with some Third Party Speech Bubbles and the Border.
If so, I can start. I call it:
OPERATION: RETCON
Basically, I'm unhappy with the quality of previous strips, so I'm going to go back and redo them all the way up until the latest chapter, possibly changing bad jokes, and most definitely fixing most of that bad photography and the bedroom background.
First BlockTales Caption Contest: Winner
Well, the contest was pretty much a failure, with only one entry, so guess who won?
Isaac. Yeah, that guy who can't watch Harry Potter. Anyway, here's his entry:
Maybe next time there will be competition to Isaac's throne, who knows?
MY Contest!
For a while now, I have wanted to host a caption contest. On Friday, I celebrate my 250th episode, and tomorrow, I have the most obscure episode yet. Perfect. Entries need to be in by 12:00 GMT, Friday 3rd December, or they won't count.

To enter, follow these instructions:

1. Save the picture below to your computer.
2. Go to www.superlame.com, and use their great software, that I use for making the comic. This is optional, and you could use something else, but there is more a chance of winning this way.
3. Upload your entry, and post it in this topic before 12:00 GMT, Friday 3rd December.
4. ???
5. You've won!

The template in question: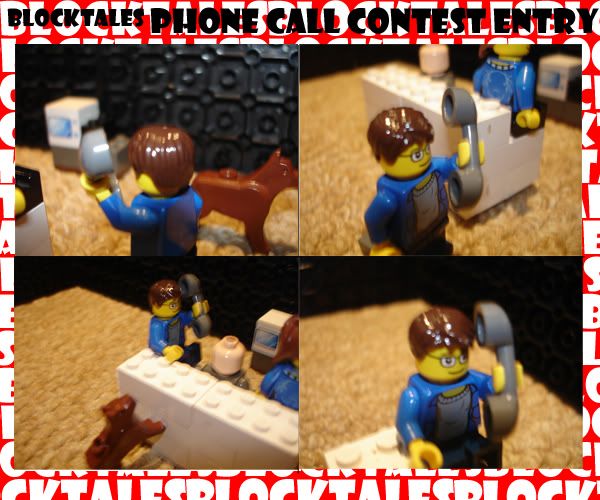 There is no prize, but you will be worshipped.

Now fly write my pretties! Write!
The BCN Advent Contest
Here at BlockTales, we are very supportive of the Brick Comic Network and vice versa. That's why I'm judging in the:
(Click to be transported to the thread)
You don't need many pieces, in fact, there is a 20 piece maximum! It is run from the 1st to the 28th, and the 25 winners will be added to a special BCN Advent Calendar! Oh, and one of the judges is Brickset's Huw!
Now hurry up and enter you little scamps!
You know, it's a pretty good time to be me.
OK, so you know, I posted a guest strip for Dave of Bricks of the Dead. It seemed quite small - another brick comic that has been around a little younger than I have. But I was inspired. I mean, wouldn't some webcomickers love to see their characters. Well, I don't just read Lego Comics, I also read some others like xkcd, Amazing Super Powers, Axe Cop and the reason I posted this strip, The Adventures of Dr McNinja. I mean, guest stripping was fun! I wanted to do more! And what would make a great guest strip that would promise me moderate fame, and has never been lego-fied before? That's right, I made a series of Guest Strips for the Doc, and the Creator loved the idea. He decided to make a Fanart Friday post on his site so he could show of his work, and although he only showed the first of three, the whole thing means a lot to me.
You can view the first strip here: http://drmcninja.com/archives/news/fanart-friday-and-more
RJ